Lightstep's integration with Google allows you to send Cloud Monitoring metrics (including custom metrics) to Lightstep.
Lightstep doesn't support Google's log based metrics.
You need a service account with short-lived credentials in order for Lightstep to access your metrics. You will need to create a service account, grant Lightstep access to the account, and finally contact your technical account manager to complete the integration. This document will walk you through all the necessary steps.
For more information on the technical aspects of the integration, you may review the general process outlined at creating short lived service account credentials.
Create a Service Account
You need to create a service account that Lightstep can use to access your metrics.
Click + CREATE SERVICE ACCOUNT.
Name the service account. We recommend lightstep-gcp.
Click CREATE.
Grant the Monitor/Monitoring Viewer role.
Click CONTINUE.
You do not need to grant users access to the service account.
Click DONE.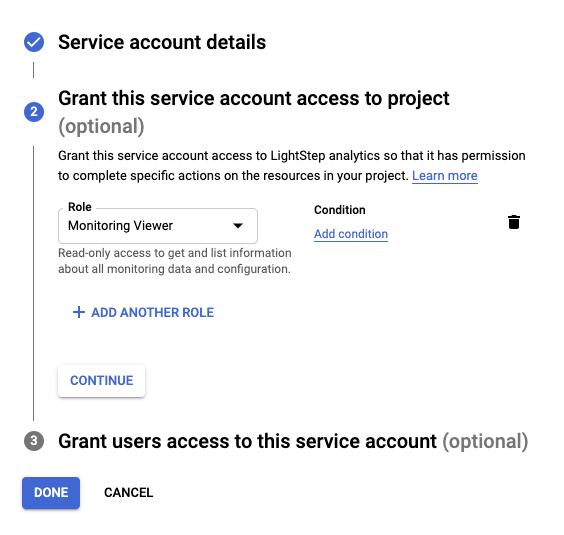 Grant Access to Lightstep
In order to complete the connection between your account and Lightstep, you must allow Lightstep to assume the identity of the service account you just created.
In the Service Accounts table, find the service just created and click the Actions icon to choose Manage details.

Navigate to the Permissions tab.
Click Grant access.
Add stackdriver-integration@helpful-cat-109717.iam.gserviceaccount.com under New members.
Select the Service Account Token Creator role.
Click SAVE.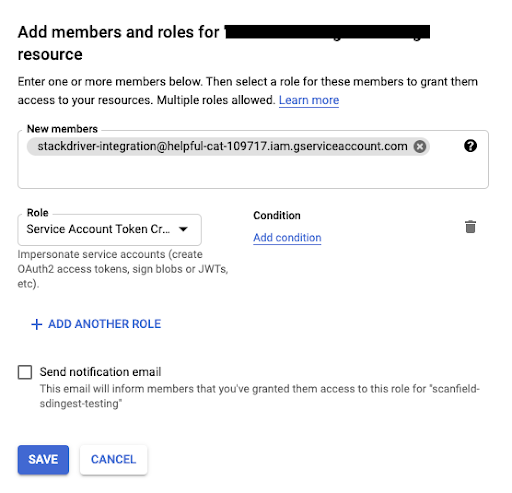 Contact Us
To complete the integration, contact your Technical Account Manager (Slack channel or email) and include the following information:
Your Google Cloud Project name
The name of the service account you created
The Lightstep project in which you would like your data to appear
Metric name prefixes to include (Optional - Default is ALL)
Metric name prefixes to exclude (Optional - Default is NONE)
The desired polling period or interval to pull metrics from Google. Choose from 1 min. to 15 mins. (Default is 15 mins.)