Lightstep Observability billing is based on the amount of data allotted to your organization for each billing period.
The amount alloted to you is a bundle that includes the following products:
Number of services sending data
Active metric time series
Amount of span data ingested
Number of Streams (saved span queries)
You can actively monitor the usage of your complete allotment from the Overview page of Account settings. You can view the details of your span usage from the Span data ingested page.
Usage overview
You access the Usage overview page from the Account Settings menu.
The user's role determines what is displayed on this page.
Your usage for each part of the bundle is calculated across all projects in your organization for the duration of a billing period.
Usage is updated every 24 hours at 02:00 UTC.
Hover over a usage bar to see the breakdown per project (not available for active services).

You can view contract details to see the number of products allotted to your organization by clicking What are my contract details?


Use the Billing period dropdown to review previous usage.

Overages
If your usage goes over your allotment, the bar for that item displays in red, along with the percentage you are over.

Additionally, Lightstep sends an email to Billing Admins when an account is close to any of their limits and again when the account starts incuring overage charges.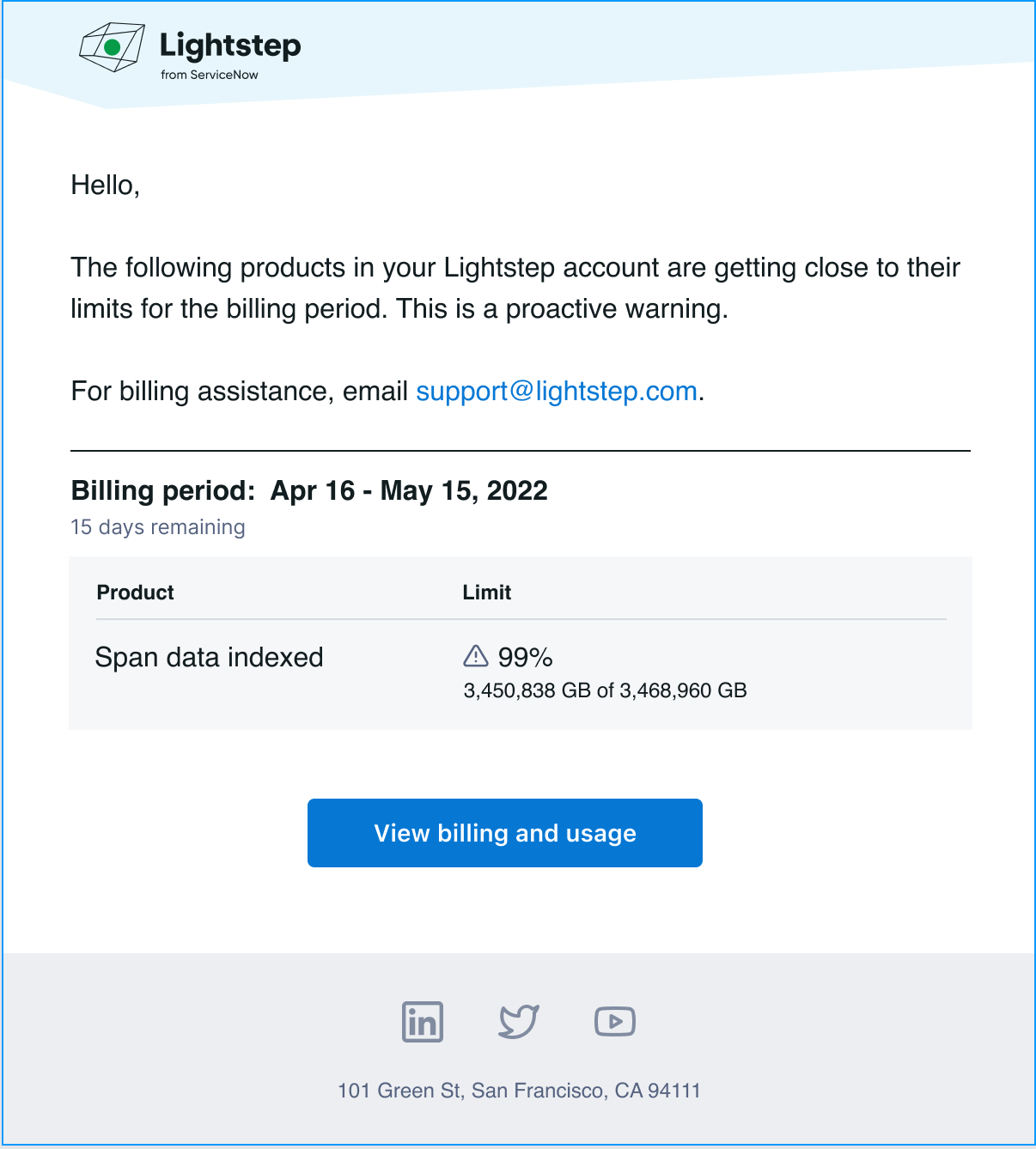 You can see and manage your email notifications in Account Settings.
Ingested span data
You can see details for the amount of span data that Lightstep has ingested by either clicking Span data ingest in the Account settings menu or from the Overview page by clicking View project breakdown above the Span Data bar.
The Span data ingest page contains bar graph that shows the amount of data (GB) ingested for each serivce emitting span data to Lightstep, ordered from largest to smallest, along with a line chart showing that ingest over the billing period. A table at the bottom of the page provides detailed usage for each service.
When you hover over a time series in the line chart, the Value column in the table shows the value for that point in time. When not hovering over the chart, the Value represents the lastet value for that service.
User role access
On the Overview page, users with the Billing admin role can see the dollar amounts of invoices and overages, as well as contracted overage rates in the Contract Details modal. Warning and overage emails are sent only to them.

The Billing admin role can only be assigned by your Customer Success representitve.
Users with the Admin role can view everything except the dollar amounts. Admins do not receive the email notifications.
All other users can see usage and overages (without dollar amounts), but can't access contract details.
Understand Lightstep billing and overages
Lightstep Observability's pricing plan is based on on an active bundle. Each bundle in your contract includes an allotment of data for each billing period, across these products:
Active Service Bundle: Distinctly named services reporting to Lightstep and the associated allotment of data for that bundle.

Billing is determined by the service's name. If multiple projects have the same-named service reporting to them, you're billed for only the one service.

Active Time Series: The number of unique metric time series sent to Lightstep, pro-rated by the hour.

Span Data (GB): The gigabytes of span data sent to Lightstep.

Streams: The number of existing Streams (including retained span queries).
How active time series are calculated
An active time series is any unique combination of a metric name and metric attribute(s) sent to Lightstep. For example, this table shows individual time series for each hour, differentiated by the attributes.
If your metric is a distribution type (that is, it automatically aggregates values by percentiles), it is billed as five separate active time series.
Expandable end
Usage of the allotment is summed across all products in your organization for a billing period. Note an active service used across projects (for example, in staging and production) is billed as a single service.
When you use more than the contracted limit of Active Time Series, Span Data (GB) or Streams, you incur overage charges for the exceeded amount. When you use more than the contracted limit of Active Services, you incur overage charges for additional bundles. Lightstep provisions additional bundles for each extra service and then updates the underlying included allowances of active time series, span data (GB) and Streams to account for the additional bundles. This ensures that you are not double charged for any overages for those items.
Other ways to monitor and investigate usage
Along with the Overview and Span data ingest pages, you can proactively monitor and investigate usage on a per-project basis.
Active time series and span data:
You can create a dashboard, as well as alerts, to monitor both your active time series and the amount of span data being ingested. When you notice an increase, you can transfer a chart to a notebook for investigation.

Active services:
You can view your active services from the Reporting Status page.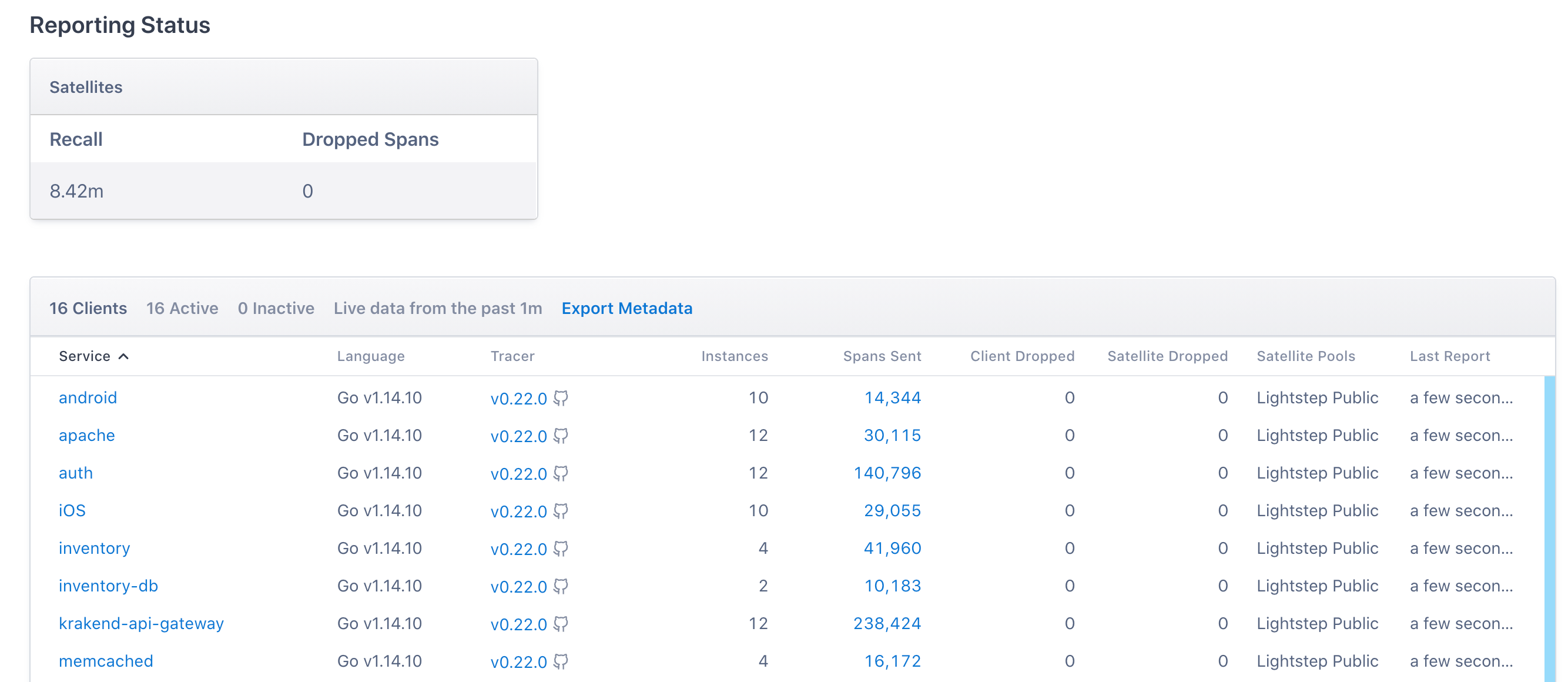 Streams (retained span queries)
The Streams view lists your existing Streams.