Once you create alerts, you can view them from one place to see a general status of all alerts. You can also delete alerts from here.
View Alerts
You can get a quick overview of alerts, and if they are in compliance or not, from the Alerts page. Open the Alerts page by clicking Alerts from the navigation bar.

By default, the Alerts view lists all alerts by their status, with those in violation at the top. Alerts can have the following statuses:
Red/Critical: The alert is in violation of the Critical threshold.

Orange/Warning: The alert is in violation of the Warning threshold.

Green/OK: The alert is active and is currently in a non-triggered state. All inbound traffic is being analyzed against the criteria you have set over the defined evaluation window.
Light gray/Unknown: The alert has been created but it's not yet in an active monitoring state. If the alert remains grey after a few minutes, try refreshing your browser window to fetch the most up-to-date alert state.
Dark gray/No data: There is no metric data reporting for this query.
Grayed out: The alert is active within Lightstep, but is currently in a snoozed state. This means that ingested traffic is being analyzed against the criteria defined in the alert, but alerts will not be generated if a threshold is breached.
You can filter alerts by name, status, date, or alert type.
Click on an alert to open it.
Take Action on an Alert
Once you have the alert open in the editor, you can run Change Intelligence to find the root cause or you can add the alert's chart to a notebook to run ad hoc queries and take notes. You can run Change Intelligence from the notebook.
Run Change Intelligence
From the alert's chart, you can use Lightstep's Change Intelligence to determine what cased the change in performance. Change Intelligence links metric data with trace data to find components in your system whose performance changed at the same time as the metric change, allowing you to find the root cause without leaving Lightstep.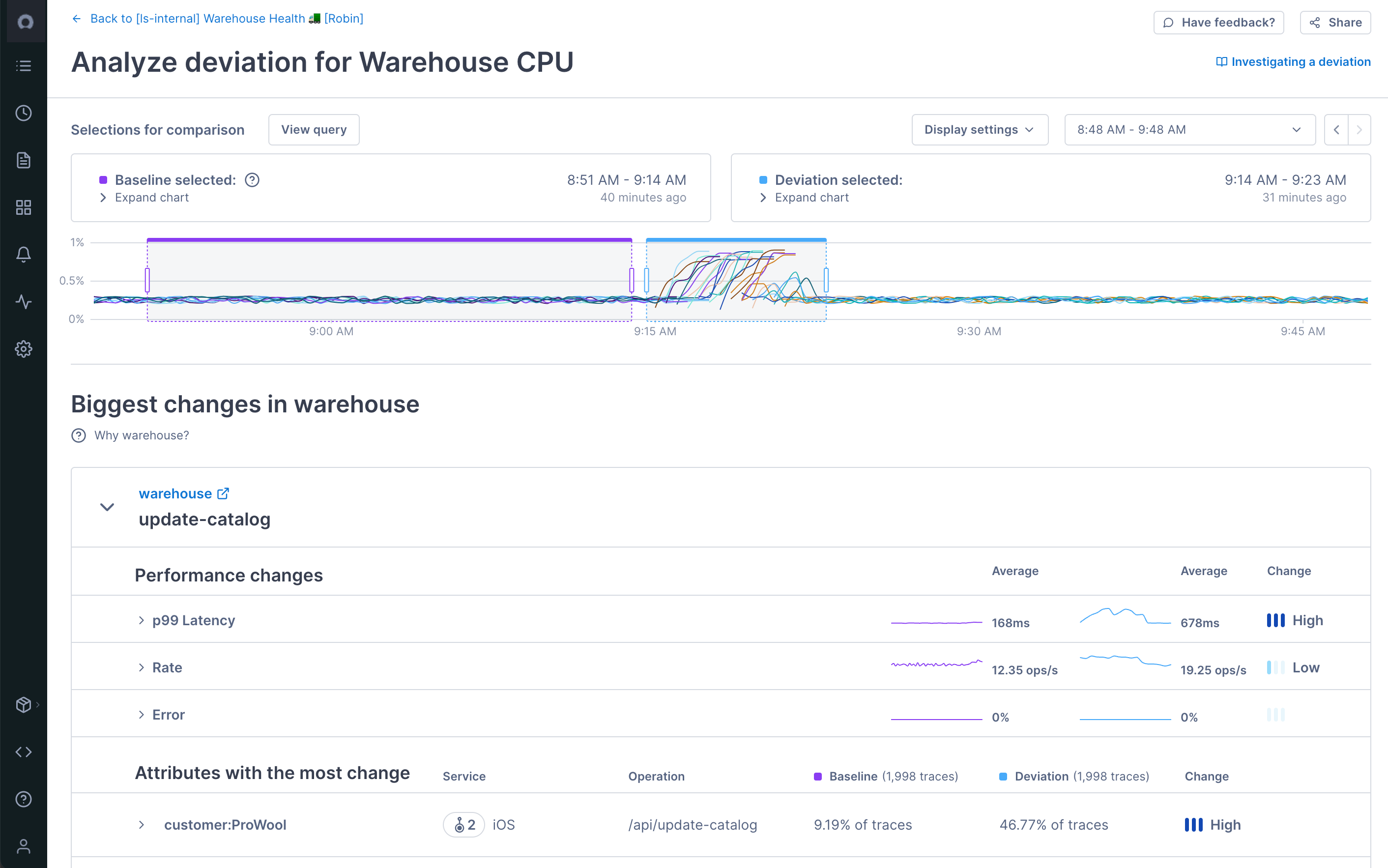 If you've made any edits to the alert, you need to save those changes before using Change Intelligence!
To run Change Intelligence, click into the deviation and select What caused this change?.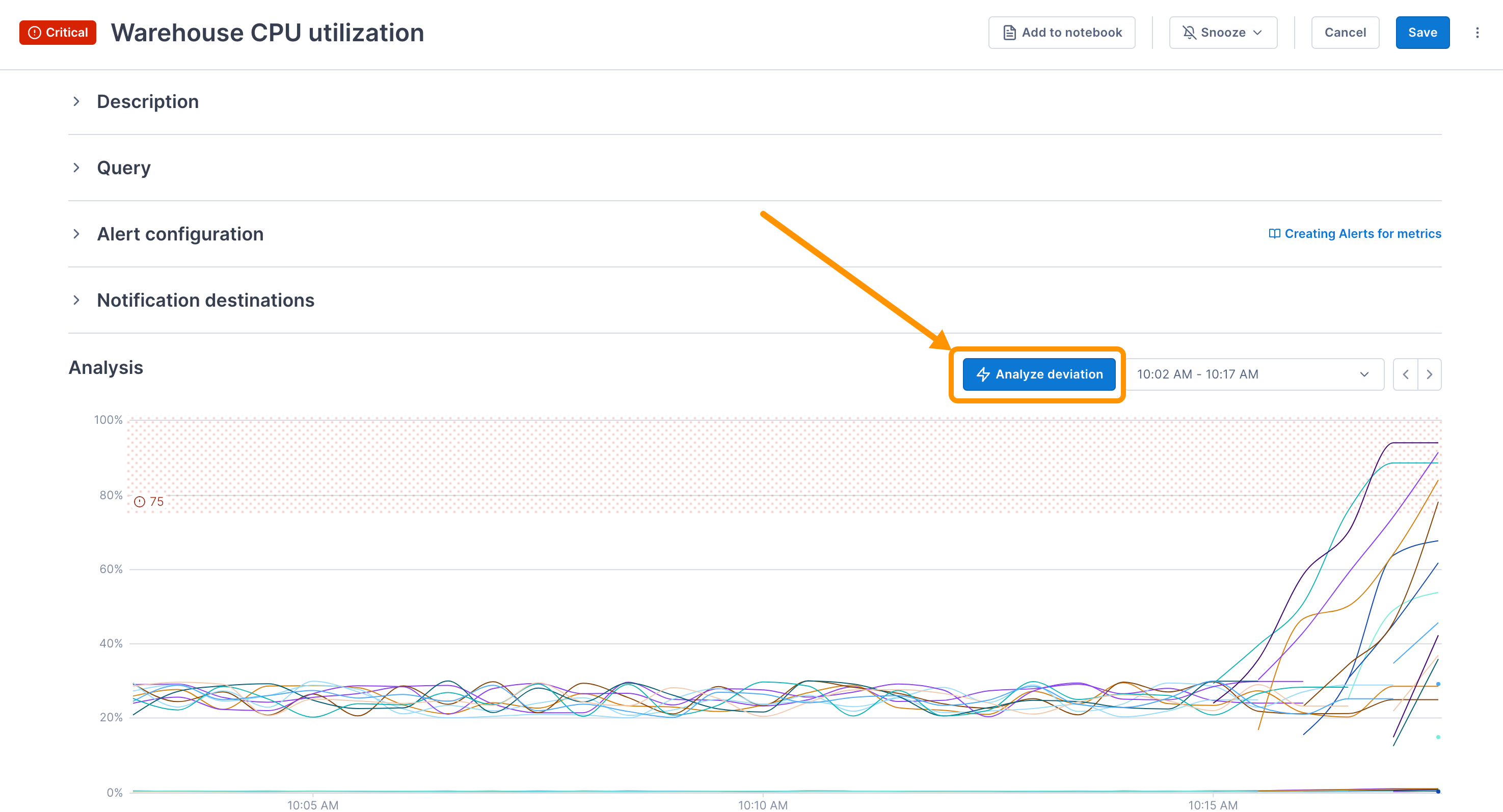 Follow these instructions to start your investigation.
Add the Alert's Chart to a Notebook
You can add a chart to a notebook for when, during an investigation, you want to be able to run ad hoc queries, take notes, and save your analysis for use in postmortems or runbooks.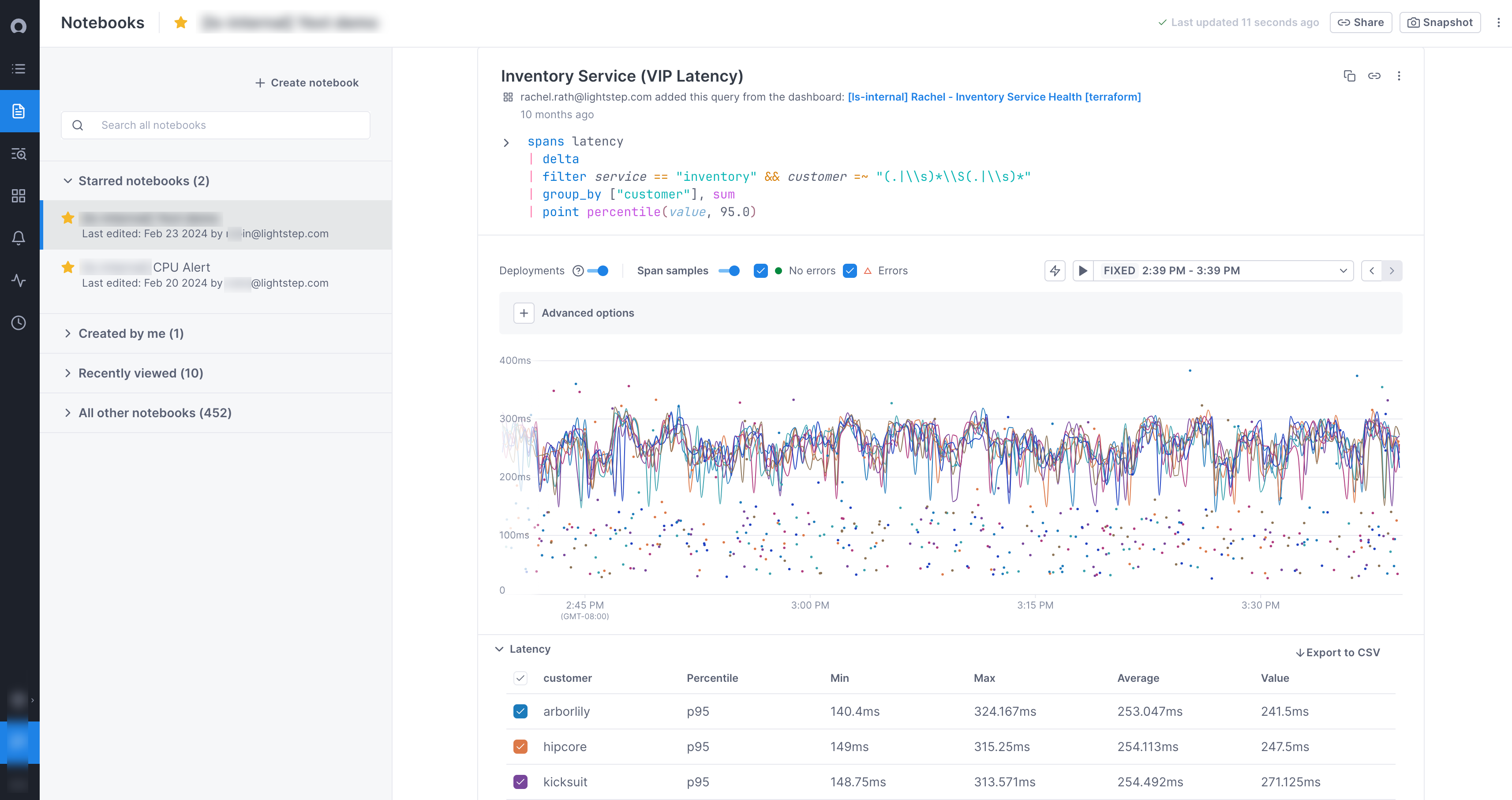 To add a chart to a notebook, click Add to notebook and search to choose an existing notebook or create a new notebook.
Delete an Alert
To delete an alert, from the Alerts view use the gear icon to choose Delete.