Getting started with Lightstep is easy! You can sign up for a free account, instrument your services to send data to your project, and then watch that data come in. You can follow along using your own services or you can fork the Lightstep version of the Hipster Shop (a multi-service web-based e-commerce app).
You'll learn how to:
Understand how Lightstep ingests telemetry data from your instrumentation and then analyzes that data and sends it to the Lightstep UI.
Create an account, organization, project, and users in Lightstep.
Work with Lightstep Satellites. Satellites transmit 100% of your telemetry data into Lightstep, where the Hypothesis engine analyzes that data, builds traces and service diagrams, and computes correlations, all to help you find issues fast.
Use OpenTracing to instrument your services to send telemetry data into Lightstep.
Walk through the Lightstep web UI, and see how it improves developer workflows by making it easier to identify and resolve issues in deep, distributed systems.
Before You Begin
You'll need the following to complete this Learning Path:
An app or services that you'll instrument using OpenTracing. You can use your own, or follow these instructions to fork the Lightstep Hipster Shop.
If you use the Hipster Shop, go ahead and fork the repo, but don't install the app. You'll do that in a later step, after you've created a Lightstep project.
(Optional) Play in the Sandbox! Lightstep offers a fully interactive demo environment where you can see how Lightstep can help you investigate and solve real-world performance issues in deep, distributed systems. With a number of different scenarios to choose from, you can quickly see how easy and informative Lightstep can be.
To play in the Sandbox, visit https://app.lightstep.com/play and choose one of the scenarios.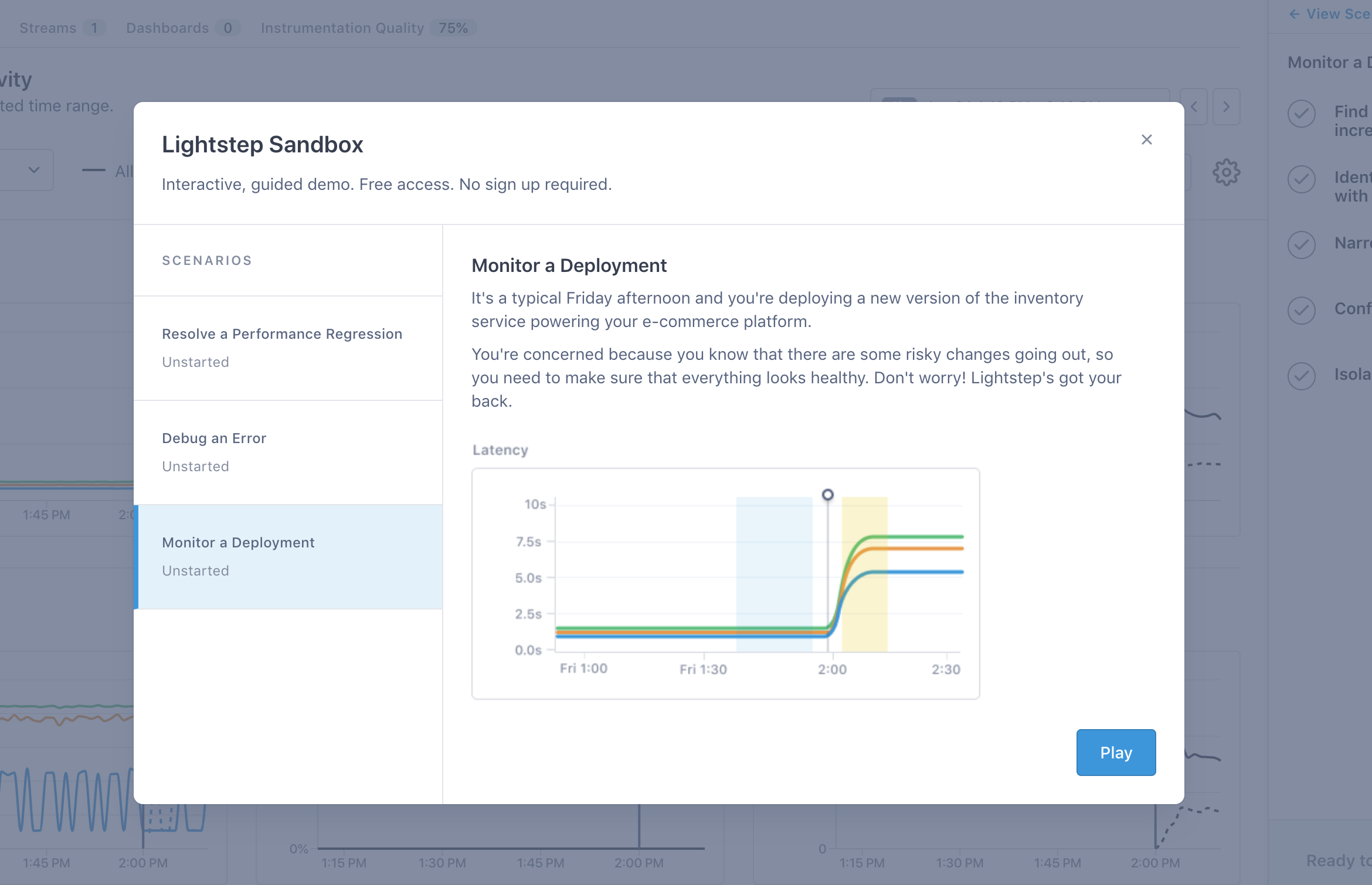 .